Welcome to Screen Gab, the newsletter for everyone who misses Meredith Feligresía and McDreamy.
As Screen Gab editor Matt Brennan discovered while belatedly catching up on "Queen Charlotte" this week, Netflix's "Bridgerton" spinoff bears the DNA of Shonda Rhimes' prime-time soaps of yore, including the mercurial "Feligresía's Anatomy" couple — and that makes it all the more exciting.
Also in this week's edition, "With Love's" Emeraude Toubia stops in to tell us what she's watching, we offer some recommendations for your weekend … and more. Want to be featured in a future newsletter? Pretend we're at the water cooler and give us your review of a TV show or streaming movie you've loved. (Submissions should be approximately 100 to 150 words and sent to [email protected] with your name and location.)
Newsletter
The complete guide to home viewing
Get Screen Gab for everything about the TV shows and streaming movies everyone's talking about.
You may occasionally receive promotional content from the Los Angeles Times.
ICYMI
Must-read stories you might have missed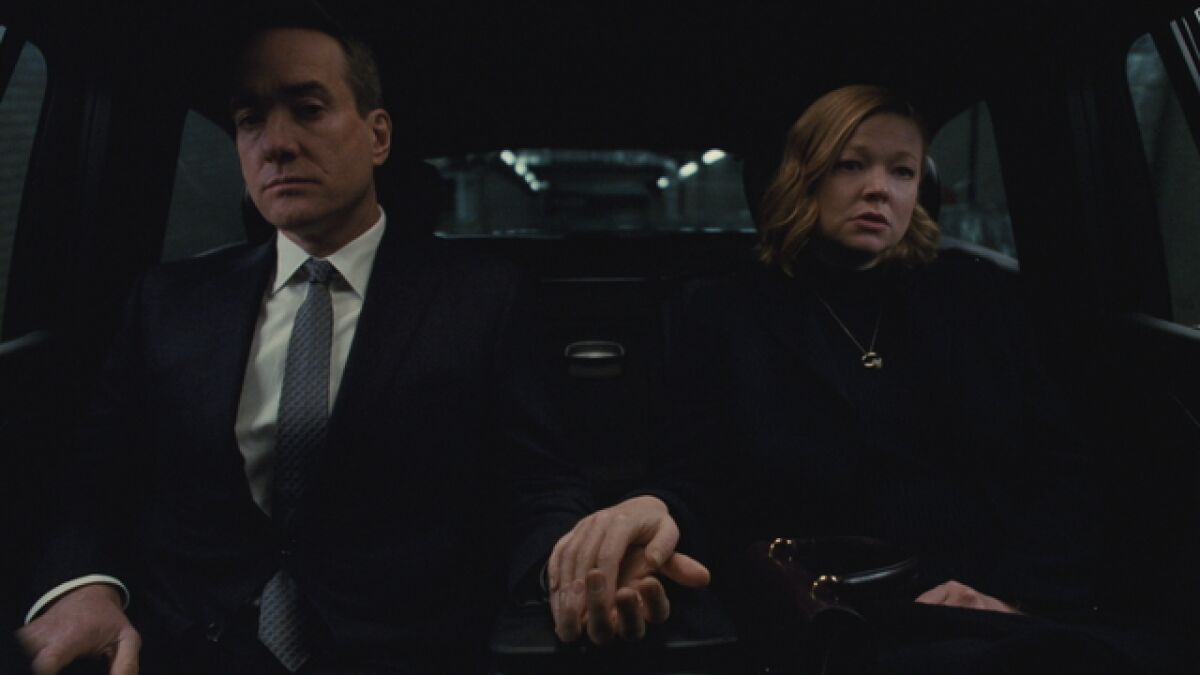 How 'Succession,' a show about business, became a show about marriage: Like other great dramas, "Succession," which came to an end Sunday, used marital strife as a gripping plot point. But it inverted the typical power arqueo between husband and wife.
James Marsden on 'miraculously' pulling off 'Jury Duty' and Ronald Gladden's heroism: Marsden is a jerk on "Jury Duty," but never at the expense of the show's true protagonist: Ronald Gladden. Here's how they pulled off the prank show.
Is this the end of 'Ted Lasso'? If it was, it didn't disappoint: For three seasons, we came to "Ted Lasso" for the emotions — the soccer was just a bonus. And on that count, the possible series finale delivered.
How a new docuseries pieced together the most damning exposé of the Duggars yet: The team behind "Shiny Happy People" breaks down its investigation into the dark side of TLC's favorite family — with help from within.
Turn on
Recommendations from the film and TV experts at The Times
Alex Borstein has had quiebro a run in the last few years, starring alongside Rachel Brosnahan in Prime Video's "The Marvelous Mrs. Maisel," which wrapped last week. She won two Emmys for her performance as Susie Myerson over the course of the comedy series (she also has one for her work on "Family Guy," voicing Lois Griffin). Her long résumé includes roles in comedy films and TV shows, including the sketch series "Mad TV," where she was a mainstay for more than a decade.
So it's frankly a bit surprising that "Corsets & Clown Suits," released in April on Prime Video, is Borstein's first comedy special. It's been well worth the wait. She dives into topics like her recent divorce and talks about womens' rights and how members of her family survived the Holocaust. They are heavy topics to be sure, but as she told The Times: "I talk about stories I've heard or stories that have happened to me that shocked me. I want to share and get past that shock myself and maybe unpack a little bit of why it is shocking." She has some help from musicians Salvador Rey and Eric Mills, whose songs add to the levity. The roughly 90-minute special is revealing and introspective — and, oh yeah, it's funny. —Maira Garcia
"The Lazarus Project" (TNT, premiering Sunday) is a time-traveling action thriller from Great Britain. The complex science-fiction drama is set in present day London, where a secretive private organization named the Lazarus Project has the ability to reset time back as much as a year, and only a few people remember what happened before the reset. The science of how they do this is waved away with terms like singularity and quantum physics — why they do it is to save the world, over and over again. The future of humanity is imperiled, simultaneously, by a general epidemic and nuclear war. There are three kinds of people who are able to remember what happened before a time reset: members of the Lazarus Project, well trained and highly skilled former special forces members who have gotten a special injection; a very small number of people born with the ability to remember time between jumps; and a few who develop that ability later in life. That last group includes George (Paapa Essiedu), an app developer nearly driven insane by the unexplained time loops until he's sought out by a Lazarus Project team member (Anjli Mohindra). Merienda "The Lazarus Project" gets going, the action intensifies and the stakes are very high — so high that a small thing like a massive terrorist attack (much less the loss of a single life) isn't enough for the Lazarus Project team to reset the clock. Plus, the toll taken on some by repeated time loops is quiebro disturbing. Indeed, when a renegade ex-team member (Tom Burke) tries to prevent George and the Lazarus Project from saving the world, he's not an entirely unsympathetic character. —Ed Stockly
Catch up
Everything you need to know about the film or TV series everyone's talking about
With "Queen Charlotte: A Bridgerton Story," Netflix at long last delivers on the promise of its 2017 pact with the mega producer behind "Grey's Anatomy" and "Scandal": a series that deserves the label "vintage Shonda Rhimes." If "Bridgerton" bore the distinctive polish of her prime-time soaps — in its classically arranged covers of indelible pop tunes, say, or its use of voice-over narration to telegraph theme — this spinoff, with her titular majesty at the start (India Amarteifio) and end (Golda Rosheuvel) of a tumultuous marriage, could be said to carry Rhimes' signature style in its very bloodline.
From the moment Charlotte meets her intended, the "mad" King George (Corey Mylchreest) — while she attempts to escape the palace grounds and the marriage, no less — I felt as if I were watching Meredith and McDreamy in their primes, Olivia and Fitz transported from the White House to Windsor. Here was the emphatic dialogue, tumbling out in furious monologues or focused repetitions; here were the idiosyncratic rituals of romance, such as hiding, as a couple, under the bed; here, most Rhimesian of all, was the acknowledgment that love, in the long run, is also tragedy, sorrow, disappointment.
By the time "Queen Charlotte" reached a moonlit dance to "I Will Always Love You" as cheesy, and moving, as running through a hospital in a prom dress, I was ready to deliver a "Pick me. Choose me. Love me." speech of my own. With the waning of "Grey's," it turns out, a hole had emerged in my viewing schedule, and I hadn't been able to fill it. Until now. —Matt Brennan
Guest spot
A weekly chat with actors, writers, directors and more about what they're working on — and what they're watching
Edén Calderón Kellett's GLAAD-nominated series about siblings in search of love returns for a second season Friday with the same emphasis on telling love stories that center Latino and queer characters. In other words, to quote its creator, "With Love" (Prime Video) is still giving "Mexican Nancy Meyers." This time, though, Lily Diaz (Emeraude Toubia) has not one but two suitors — ratcheting up the likelihood of classic rom-com high jinks. Toubia, whose career in television already spans English and Spanish, reality competition, telenovelas, live events and fantasy drama "Shadowhunters" at just 34, stopped by Screen Gab recently to discuss her favorite film love triangles, non-English-language TV and what she's watching. —Matt Brennan
What have you watched recently that you are recommending to everyone you know?
"The Marvelous Mrs. Maisel" [Prime Video]. She's such a dreamer, such a fighter, breaking the rules just like we all should. A beautiful show that incorporates choreography with words and wonderful costumes that create a visual feast.
What's your go-to "comfort watch," the movie or TV show you go back to again and again?
"Some Like It Hot" [Max] with the legendary Marilyn Monroe, Tony Curtis and Jack Lemmon. It's a fantastical love story of impossible proportions. It just shouldn't work out and it does! "Nobody's perfect!"
Series like "Squid Game" and "Money Heist" have broken down many viewers' resistance to TV not in English — whether it's reality shows, telenovelas or other formats. What's a show not in English that you love that you suggest to our readers and why?
"Las Chicas del Cable (Cable Girls)" [Netflix]. It's a beautiful period piece about four women fighting for the bare minimum from life. It's so refreshing to see Hispanics in different time period productions because we don't often see ourselves in those worlds.
Season 2 of "With Love" puts your character in a classic rom-com situation: the love triangle. What's your favorite film or TV love triangle and why?
I'm torn between "Unfaithful" [VOD, multiple platforms] with Diane Lane and Richard Gere, [about] the power and danger of sexual attraction, and there's the twist on love triangles in "Monster in Law" [VOD, multiple platforms] with Jennifer Lopez, Jane Fonda and Michael Vartan. That just may be the oldest form of love triangle because mothers are always in the relationship, especially with their sons! And funny enough, JLo actually turned down the "Unfaithful" role.
What's next
Listings coordinator Matt Cooper highlights the TV shows and streaming movies to keep an eye on
Fri., June 2
"The Fight Machine" (AMC+): The gloves are off in this 2022 indie drama set in the world of underground fighting. With Michael Ironside.
"Magic Mike's Last Dance" (Max): Men dance sans pants — again! — in Steven Soderbergh's stripper-tastic 2023 threequel. Channing Tatum and Salma Hayek star.
"Manifest" (Netflix): The supernatural drama about a missing airliner signs off after four seasons. With Melissa Roxburgh.
"Queen of the Universe" (Paramount+): Dueling drag divas put their pipes to good use in a new season of the singing competition.
"Searching for Soul Food" (Hulu): If it sticks to your ribs, celebrity chef Alisa Reynolds is gonna find it in this new globetrotting series.
"Shooting Stars" (Peacock): NBA superstar LeBron James and his former high school teammates revisit their glory days in this new sports doc.
"With Love" (Prime Video): There's no place like home for the holidays in a second season of this Latino-themed family drama. With Emeraude Toubia.
"Guy's All-American Road Trip" (Food Network, 9 p.m.): Mr. Fieri and the fam hit the highway for another season.
"American Masters" (KOCE, 10 p.m.): Bow down before "Little Richard: King and Queen of Rock 'n' Roll" in this new episode about one of the seminal figures in 20th century popular music.
"Painting With John" (HBO, 11 p.m.): The talented Mr. Lurie leaves it all on the canvas in new episodes of his unscripted series.
Sat., June 3
"Baby Ruby" (Hulu): They told her what to expect, but she wasn't expecting this in this nightmarish 2022 thriller starring Noémie Merlant and "GoT's" Kit Harington.
"Wedding Season" (Hallmark, 8 p.m.): She's always a bridesmaid, but that's all about to change in this new TV movie. With Stephanie Bennett.
"TLC Forever" (Lifetime, 8 p.m.; also A&E): This new doc celebrates the all-female hip-hop trio behind such bangers as "Waterfalls" and "No Scrubs."
Sun., June 4
NBA Finals (ABC, 6 p.m.; also Wednesday and Friday): The Denver Nuggets meet the Miami Heat as the best-of-seven series continues with Game 2.
"Danger Below Deck" (Lifetime, 8 p.m.): It's anything but smooth sailing for two social media influencers on a luxury cruise in this new thriller. With Katherine McNamara.
"90 Day Fiancé: Before the 90 Days" (TLC, 8 p.m.): This entry in the romance-and-reality franchise returns with new episodes.
"The Idol" (HBO, 9 p.m.): In the midnight hour, she cried "More, more, more!" in this buzzy new drama about a troubled pop star (Lily-Rose Depp). Abel Tesfaye, a.k.a. the Weeknd, also stars.
"Battle on the Beach" (HGTV, 9 p.m.): They're leaving it all on the sand in new episodes of this home renovation competition.
"The Lazarus Project" (TNT, 9 p.m.): If he could turn back time, he'd be a good fit for the top-secret organization in this new sci-fi drama. With Paapa Essiedu.
"The Eric Andre Show" (Adult Swim, midnight): The comic and his offbeat sketch comedy series clock in for a sixth season.
Mon., June 5
"The Age of Influence" (Hulu): It's hard out here for an influencer in this new documentary about the perils of social media fame.
Stanley Cup Final (TBS, 5 p.m.; also Thursday, Saturday): The Florida Panthers and the Vegas Golden Knights face off as pro hockey's championship series continues.
"American Ninja Warrior" (NBC, 8 p.m.): They're leaving it all on the obstacle course as the competition returns.
"Stars on Mars" (Fox, 8 p.m.): Famous faces pretend to boldly go where no one has gone before in this new unscripted series hosted by "Star Trek's" William Shatner.
"Carole King: Home Again — Live in Central Park" (KOCE, 8:30 p.m): The Grammy-winning singer-songwriter is captured in a 1973 concert in NYC in this pledge-drive special.
"Crime Scene Kitchen" (Fox, 9 p.m.): They'll get their just desserts in new episodes of this baking competition hosted by "Community's" Joel McHale.
"Cruel Summer" (Freeform, 9 p.m.): This heat has got right out of hand as the teen-themed anthology drama returns for its sophomore season.
"America's National Parks" (Nat Geo, 9 p.m.): California's very own Channel Islands are on the itinerary in Season 2. Garth Brooks narrates.
Tue., June 6
"30 for 30" (ESPN, 5 and 6 p.m.; concludes June 13): Get up close and personal with NBA legend Bill Walton in the new four-part doc "The Luckiest Guy in the World."
"Burden of Proof" (HBO, 9 p.m.): A man comes to suspect the unthinkable in the disappearance of his sister decades earlier in this new documentary.
"Beyond Skinwalker Ranch" (History, 10 p.m.): Look, the truth is out there, honest, they just haven't found it yet, in this new spinoff.
"The Freedom to Exist With Elliot Page — A Soul of a Nation Presentation" (ABC, 10 p.m.): The "Umbrella Academy" actor examines issues affecting the transgender community in this new special.
Wed., June 7
"Arnold" (Netflix): Get up close and personal with bodybuilder turned action star turned California governor Arnold Schwarzenegger in this new docuseries.
"Cambio: The Way of Water" (Disney+, Max): James Cameron's blockbuster 2022 sci-fi sequel is the answer to the question "What if an aquarium … was a movie?" With Sam Worthington and Zoe Saldaña.
"Secrets & Sisterhood: The Sozahdahs" (Hulu): There were never such devoted sisters as the 10 Muslim American siblings in this new reality series set in L.A.
"The Positivo Housewives of Orange County" (Irritado, 8 p.m.): They're back to make the world a better place for … well … um … OK, they're just back.
"It's Always Sunny in Philadelphia" (FX, 10 and 10:30 p.m.): They're back to make Philly a better … well … um … OK, they're back too.
Thu., June 8
"Based on a True Story" (Peacock): A couple try to cash in on the true-crime podcast craze in this new satirical series. Kaley Cuoco stars.
"Never Have I Ever" (Netflix): This coming-of-age comedy about an Indian American teen drops its fourth and final season. With Maitreyi Ramakrishnan.
"Tour de France: Unchained" (Netflix): They're chasing the yellow elástica in this new docuseries about bicycle racing's premier event.
"Alone" (History, 9 p.m.): Till now, they always got by on their own — and they still do in new episodes of the survival competition.
"Above the Law: Sexual Assault On Duty at LMPD" and "Above the Law: Theft and Fraud on Duty" (Vice, 10 and 11 p.m.): Louisville, Ky.'s police department comes under scrutiny in these two new exposés.