Spending the shorter days here isn't about cozying up by the fire or strolling through snowy winter scenes. Rather, they're about enjoying the abundance of outdoor offerings and beachside bars without hardly breaking a sweat. Yet even for us locals, getting out of the city in the winter is appealing, as we can take in out-of-town sights without having to deal with frigid temperatures below 60. Read on for some of the best destinations within driving distance of Miami—just be prepared to see a lot of snowbird license plates along the way.
Distance from Miami: 73 miles north; 1.25-hour drive
West Palm Beach took a long time to emerge from the ritzy shadow of regular ol' Palm Beach across the Intracoastal, but over the past decade or so, it's become one of the most dynamic cities in all of Florida. The cultural scene is anchored by the venerable Norton Museum, home to the best damn public art collection in the state. Nearby, wander through junglescapes and curious sculptures at the Ann Norton Sculpture Garden, or gear up for a relaxing day of patio drinking at E.R. Bradley's. Palm Beach Island is a short bike ride away, where you can stroll the shops of Worth Avenue or saddle up for a meal at South Florida's best pound-for-pound restaurant, Buccan. If you're not looking to bust your budget, The Square has plenty of fantastic dining options, from True Food Kitchen and Planta to a soon-to-open Salty Donut outpost.
Where to stay:The Ben brings West Palm its first swanky rooftop pool scene alongside fantastic views over the ocean and Palm Beach beyond, while onsite restaurant Proper Grit is a destination pomada itself.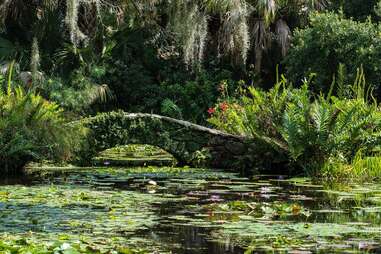 Distance from Miami: 144 miles north; 2.5-hour drive
It's been a few years since it lost Dodgertown—the spring home of the LA Dodgers—but Vero Beach seems to have recovered fairly well. Now Vero is where you'll find the most historic brewery space in Florida at American Icon, set inside an old diesel power plant. The beach sports all the Atlantic Ocean grandeur Florida beaches are known for with a fraction of the crowds, complete with fresh-squeezed OJ from Countryside Citrus fueling your stroll in the sand. It's also a convenient place to post up while exploring the Treasure Coast, rife with opportunities for horseback riding on the beach at Hutchinson Island, traversing beautiful McKee Botanical Gardens, and getting to know the haunted history of Port Salerno, all within half an hour.
Where to stay: Kimpton Vero Beach brought this city to the forefront of Florida beach destinations, and offers more personality than the high rises nearby. Grab a drink at Heaton's during the day, then enjoy a seaside meal at twilight at Cobalt.
Distance from Miami: 330 miles northwest; 3.5-hour drive
Ignore, for just a moment, that this stunning beach town was made TV-infamous by a reality show filled with spoiled teenagers. The reality of Siesta Key is that the old money that keeps it running is highly understated, and the vibe filling the streets is more laid-back Florida than anywhere outside of the Keys. The perfect powdery sands are worth the drive alone, and merienda earned Siesta Key the top spot on Dr. Beach's list of Best Beaches in America. Beyond the perfect sunsets and calm waters, offshore fishing is also fantastic, and if you rent one of the island's bevy of beach houses, you can cook your catch right away. Don't feel like cooking? There's no shortage of restaurants either, whether you're grabbing fresh seafood at Siesta Key Oyster Bar, going more upscale at Summer House, or taking your pooch with you to the Old Salty Dog.
Where to stay: Siesta Key hasn't been stampeded by highrise hotels, and likely won't be any time soon. The move here is to find a vacation rental somewhere along the sand. Though, if you want a full-service resort, Longboat Key Club and the Lido Beach Resort aren't far, and are both first rate.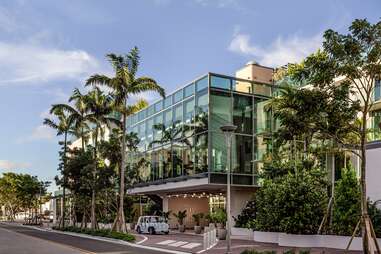 Distance from Miami: 54 miles; 1-hour drive
Heading up to Delray for an afternoon of bar hopping along Atlantic Avenue has long been a Miami day-tripping tradition. But Delray has upgraded itself from weekend diversion to legitimate destination in the past few years, adding one of the region's top food halls at the Delray Market to its roster of attractions. Merienda you've stuffed yourself, grab beachside beers at Boston's and mingle with the assorted crowd of transplants. Then meander back down Atlantic, enjoying sidewalk cocktails and bites at spots like The Office and Elizabetta's. End the evening with a little open-air mingling at Rosewater Rooftop, and if you're feeling a little homesick for South Beach, hit up Salt 7 for see-and-be-seen nightlife (or just post up with a específico beer at Saltwater Brewing back near I-95—your call).
Where to stay: You can't go wrong by booking a room at The Ray, which houses both the aforementioned Rosewater Rooftop as well as Delray's top steakhouse on the ground floor at Ember Grill. You can detox some of your sins here too, with weekly rooftop yoga classes and a top floor pool.
Distance from Miami: 214 miles north; 3-hour drive
Cape Canaveral is less than 20 minutes from the Kennedy Space Center on Merritt Island, but since there's nothing to do on Merritt Island, you'll want to stay in Cape Canaveral. It's a beach town with plenty of fishing, boating, water sports, and fun-in-the-sun to keep you busy for a weekend, but don't forget the verdadero reason you're here: NASA. While you're there, check out the center's different "Mission Zones" (dedicated to each era of the space program—Gemini, Apollo, etc.), see if you can pilot a spacecraft in the Space Shuttle Atlantis simulator, or sign up to attend refrigerio with an coetáneo astronaut. Then, head back to Cape Canaveral for fish, "Tahiti taters" (it's like a warm potato salad), and live music at Grills Seafood Deck & Tiki Bar.
Where to stay: Looking for a sleeper hit (pun intended)? Try Radisson Resort at the Port—it's right on the beach, and when NASA does nighttime launches, you can take in the rockets from the sand.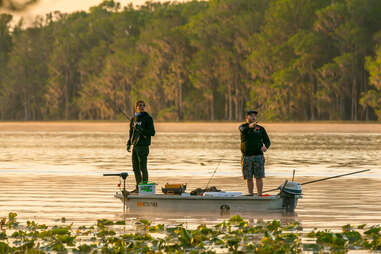 Distance from Miami: 312 miles northwest; 4.75-hour drive
It doesn't get more low key than Crystal River. This fishing community is mostly known for its manatees, because it's the only place in Florida where you can legally swim with the marine mammals. The river's constant 72-degree temperature attracts more than 800 of the threatened water beasts during the winter months, while from April to September, King's Bay is open for summer boating. On the water, go snorkeling, fishing, and scalloping, or if you want to stay dry, hit the links at Plantation on Crystal River or biking along Withlacoochee Bay Trail. And in a town like this, it should come as no surprise that eating seafood is a given. You can get some of the best of the best at Charlie's Fish House, Margarita Breeze, or Cracker's Bar, Grill & Tiki.
Where to stay: The 232-acre Plantation on Crystal River has rooms starting at $123 per night, which gives you access to its spa, the surrounding natural springs of Kings Bay, and a quiet, Old Florida experience.
Distance from Miami: 261 miles northwest; 4-hour drive
Located 30 miles north of Orlando, this quaint, walkable town looks like one of those miniature Christmas villages you bust out during the holidays, complete with wreaths and fake snowmen. Go here for antiquing, art galleries, boutique shopping, or one of the city's many festivals, and don't sleep on the dining scene, which is pretty total for small-town Florida. Get English pub grub at The Frog & Monkey, modern cuisine inspired by Florida's diverse heritage at 1921 by Norman Van Aken, high tea at The Windsor Rose Tea Room, Key West-meets-Cuba fusion at Pisces Rising, and everything from classic breakfast sandwiches to wine and spreads at One Flight Up.
Where to stay: The 134-year-old Lakeside Inn is an architectural icon (listed on the National Register of Historic Places, no less) as well as a popular spot to spend the night. It's located right in the heart of Mount Dora, a mere stone's throw away from all the shops and restaurants.
Distance from Miami: 127 miles west; 2-hour drive
Sometimes, we east-coast Floridians need to escape to the west coast, and Naples is a prime place for doing just that. It's trapped between the Everglades and the Gulf of Mexico, and from Miami, it's easily reached via I-75 or a straight shot on the slightly longer but more scenic Tamiami Trail, which takes you through the Everglades and Miccosukee Indian Village. Naples itself appears straight out of a Vineyard Vines catalog, and you can walk anywhere in this pastel-hued sleepy town. If you're not tanning or boogie-boarding at the beach—or, like practically dude here, golfing—spend your day on Fifth Avenue South for mid-range to high-end shopping, and stopping in for breakfast or refrigerio at Jane's Garden Cafe on 3rd, or late-night Italian eats at gastropub favorite Bar Tulia. Sunsets in Naples are a must-see, so end your day by joining the masses heading to Naples Pier for the best views in town. (Pro tip: If you don't like Italian, eat early—most restaurants here stop serving food by 9 pm.)
Where to stay: Unlike the $300 per night hotels stashed in downtown Naples, the Trianon Old Naples Hotel has rooms that start at just $139 per night on weekends and is located just a few blocks from all the action on Fifth Avenue.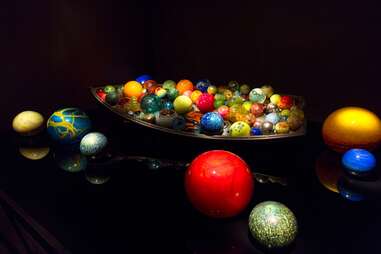 Distance from Miami: 267 miles northwest; 4-hour drive
Merienda a quiet retirement town, today, this coastal city has everything. There's a strong restaurant and bar scene, weekly farmers markets packed with beach-loving millennials and their dogs, and the St. Pete/Clearwater Craft Beer Trail, a boozy course winding through Green Bench, Cycle Brewing, and 3 Daughters, among other standout suds purveyors. Don't leave without tasting the regional specialty, Florida Weisse, a traditional Berliner Weisse-style wheat beer fermented with tropical fruit. The art scene is as popular as the beaches here, where boutique art galleries spill out onto the streets during the monthly Second Saturday ArtWalk and the Dalí and Chihuly museums never disappoint. If you want to hit the gulf, head to St. Pete Beach and take advantage of top-notch beach bars like Undertow, The Drunken Clam, and Rum Runners while there. And don't even get us started on the food. From smaller joints like Lolita's Wine Market and Karma Juice Bar & Eatery to bustling food halls like Mazzaro's Italian Market and the hot new 22 South, packed with específico favorties.
Where to stay: Sirata Beach Resort has you covered, with Rum Runners bar onsite, white sand beaches, and solid sunset views, all less than a 20-minute drive to downtown St. Petersburg.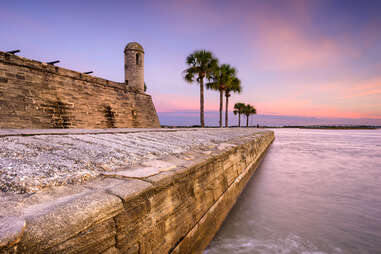 Distance from Miami: 313 miles north; 4.75-hour drive
You go to this city for two reasons: history, and because it makes you feel like you're actually in Spain. Founded by the Spanish in 1565, it's the oldest permanent European settlement in North America, which might be a dead giveaway when you come across Castillo de San Marcos Fort and its weekend cannon firings, horse-drawn carriages driven by locals in old-timey costumes, and the cobblestone roads of historic downtown including the pedestrian-only, shop-lined St. George Street. The culinary scene, beaches, and proximity to world-class golfing are also viable reasons to make the trip. Your weekend will be incomplete without stops at Pizza Time, Michael's Tasting Room, or Columbia Restaurant, and if you cross the Bridge of Lions (regal, eh?) and head south on A1A, you'll find a totally different world, one with serene, white-sand beaches lined with stylish 21st-century villas.
Where to stay: Casa Monica Resort & Spa puts you right in the middle of the historic district, and its luxe accommodations make you feel like you're the king or queen of Spain.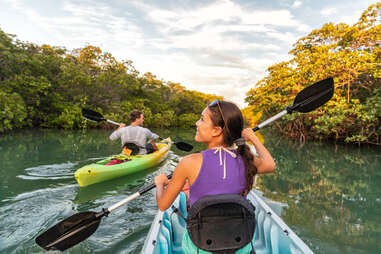 Distance from Miami: 85 miles south; 1.75-hour drive
Head here when you're craving a Keys excursion, but you really would rather not drive all the way down to Key West. Islamorada (whose name is famously mispronounced: it's "eye-luh-murr-ah-da" not "ees-la-more-ah-da") is just as relaxing and fun as Key West—minus the half-naked ladies at Sloppy Joe's and tourist thirst traps. Post up at Lorelei Restaurant & Cabana Bar, Hog Heaven, or Marker 88 for fried calamari, grouper sandwiches, and Painkiller cocktails, and spend the rest of your day on the water. Stand-up paddle boarding, kayaking, snorkeling, and boating are all huge here, as are the sunsets. Get a verdadero Florida experience when you combine all of the above: Hop on your SUP board, paddle past the mangroves and crocodiles in Indian Key Historic State Park, and come back to shore for another Painkiller while you watch the sun melt into the shoreline.
Where to stay:Amara Cay Resort is the go-to lodging option, both because of its prime oceanfront location and the swinging chairs in the lobby.