Marked by pristine waters, brilliant architecture, tree-lined streets, and an urban beach aura, the Emerald Coast of Florida attracts visitors worldwide all year round. The Emerald Coast spans over 100 miles across different counties, including Santa Rosa, Okaloosa, Walton, Escambia, and Bay. Take advantage of the scenic architecture at Alys Beach, the pensive vegetation at the Destin islands, or wildlife exploration at St. Marks National Wildlife Refuge. 
Have a dreamy vacation with fun-filled adventures hiking, biking, fishing, kayaking in freshwaters along St George Island, and go picnicking or camping on the shores of Panama City Beach or Seaside. There are plenty of things to do in these promising towns, so start now and explore the most scenic Emerald Coast towns.
Destin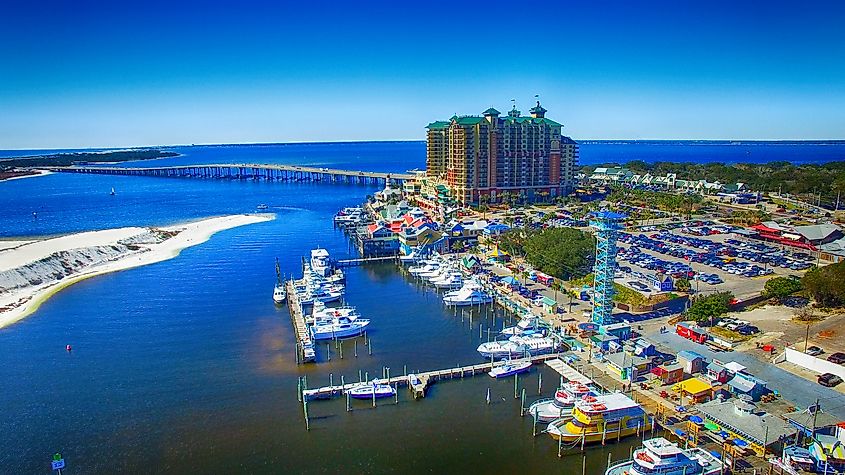 Destin is a typical beach town in North Florida on the Gulf of Mexico with tons of white-sand beaches and emerald-green waters. It has earned its badge as the «World's Luckiest Fishing Village,» offering abundant fishing opportunities, fishing and water sports on sand beaches, and high-rated golf courses in Regatta Bay Golf & Yacht Club. 
Start with all the fun by visiting one of Destin's prestigious beaches, from Henderson Beach and Crab Island to Okaloosa Island and Topsail Hill. Bask in Florida's radiant sun or ride in the gulf waters in Henderson Beach on a kayaking or snorkeling excursion. Take a fishing charter from the Okaloosa Island Fishing Pier and enjoy the scenic view. Enjoy the town's side attractions, shopping in Destin Commons, like the Southern Living store and Brighton Collectibles, and dining in the best seafood restaurants at Dewey Destin's Seafood Restaurant or Óleo Café. If you're a history buff, check out the Destin History and Fishing Museum, showcasing about 75 fish species and various interesting Civil War artifacts.
Mexico Beach
On the Northwest Florida Gulf Coast lies Mexico Beach, a unique small coastal town with windswept beaches and Florida Panhandle charm. The town's welcoming people make the visit here even better while you enjoy dolphins playing intermittently at St. Joe Beach or Crooked Island Beach or dive into the waters for a refreshing swim. Explore nature and wildlife while paddling through nearby Dead Lake, or watch various species of birds, red wolves, American alligators and sea turtles at St. Marks National Wildlife Refuge. There are also fishing opportunities at Charter Boat Miss Mary, and alluring vacation resorts like El Governor Beachfront Resort and Gulf View Motel.
Pensacola Beach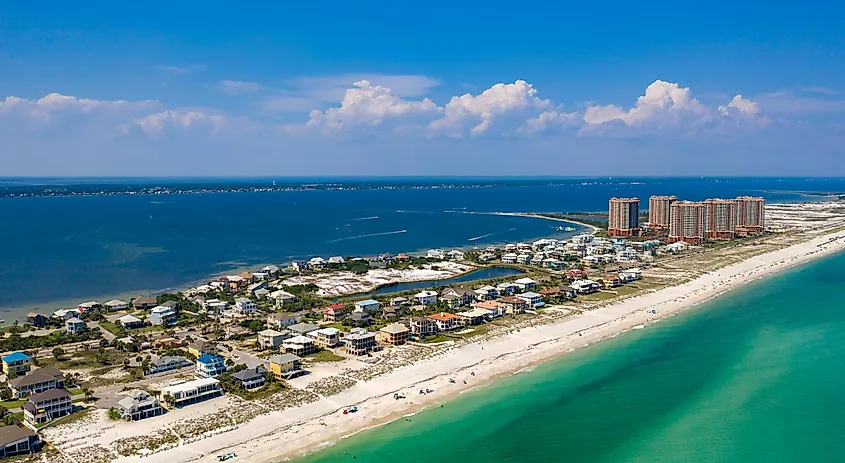 Pensacola Beach is a resort community on Santa Rosa Island on the Gulf Coast, located South of Pensacola. It is a beautiful community with an array of adventure opportunities, such as boating, fishing, and surfing in the pristine waters. Have a swell time away from the sandy beach learning about the area's history at Fort Pickens, called guardian of the coast and known as one of the community's iconic landmarks offering visitors, recreational and educational opportunities. The beautiful Casino beach and the Gulf Islands National Seashore also grant nature lovers a close-to-paradise experience with the latter's scenic driving routes perfect for a therapeutic ride.
Seaside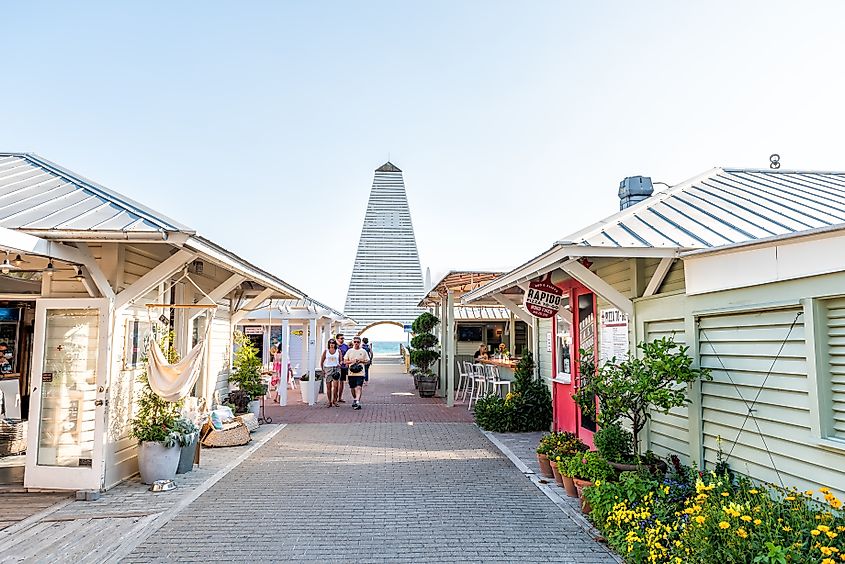 Best known as the world's first New Urbanist town, Seaside, sitting east of Miramar Beach, showcases calm turquoise water on its many beautiful Southern beaches, like the Seagrove Beach pavilions. Dive into Seaside's warm waters in the sun-bleached Blue Mountain Beach with your family and engage in water activities like kayaking and boating. You may also explore art galleries such as the Newbill Collection by the Sea, Fusion Art Glass & Fine Jewelry Gallery, or Red Bird Gallery. Feel the urban aura as you walk through the shops at Rue Ruskin Place and enjoy seafood at Fish Out Of Water and Great Southern Café.
St George Island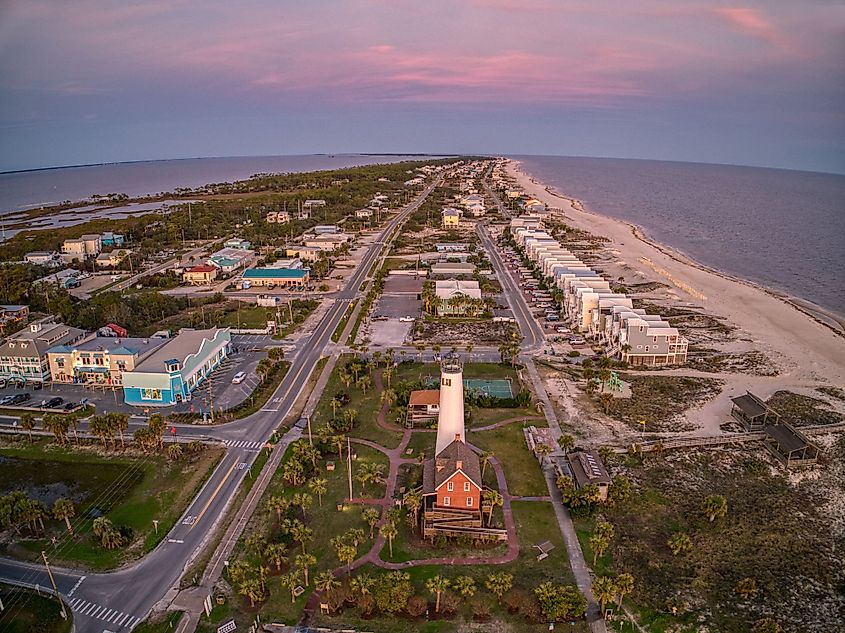 St George Island is one of Florida's unspoiled barrier islands on the North Gulf coast, with a serene beach community. Enjoy St George Island beach's pristine bay and calm waters and join in recreational activities like fishing, paddling, and swimming. Go fishing with the Journeys of St George Island or Southern Salinity Guide Service fishing charter to experience the perfect island life, whether you're a rookie at fishing or a pro. Bike along the St George Island State Park and revel in the circunscrito wildlife and lines of forest, dunes, and marshes. You may also go on an adventurous tour of the Island's historical places and museums at St George Island Lighthouse and shop varieties and collectibles at Sometimes it's Hotter, Art of Glass, and St. George Island Trading Co.
Apalachicola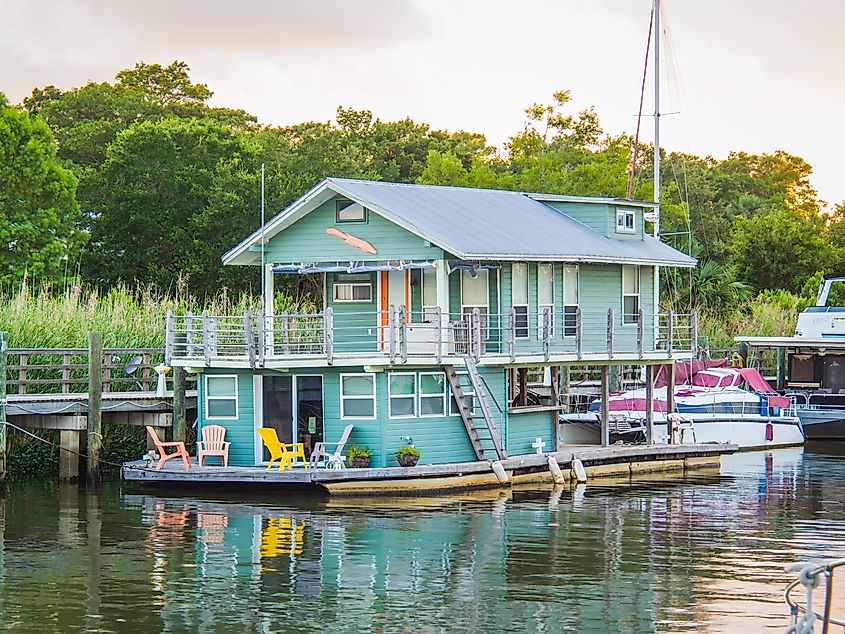 Only about 12 miles from St George Island, across the Bryant Patton Bridge, this coastal «land of the friendly people» has many things to give, including scenic beaches, savory seafood, panoramic water views, wildlife and welcoming people. Relish in nature's goodness as you glide through the freshwater of Apalachicola River and bay with paddles, cruises, kayaks and riverboats or take a tour through the nature trails of Apachiacola's historic district. While you're there, discover the town's distinctive tales and gush over the impressive array of Victorian homes in its peaceful streets. There's more to Apalachiocola's glorified look than you know, and you'll find this out while exploring the John Gorrie Museum State Park. Seal your experience here with good food and luxurious dining featuring authentic seafood, pastries, and more at Owl Café, Tamaras Café, and Apalachicola Chocolate Company. 
Alys Beach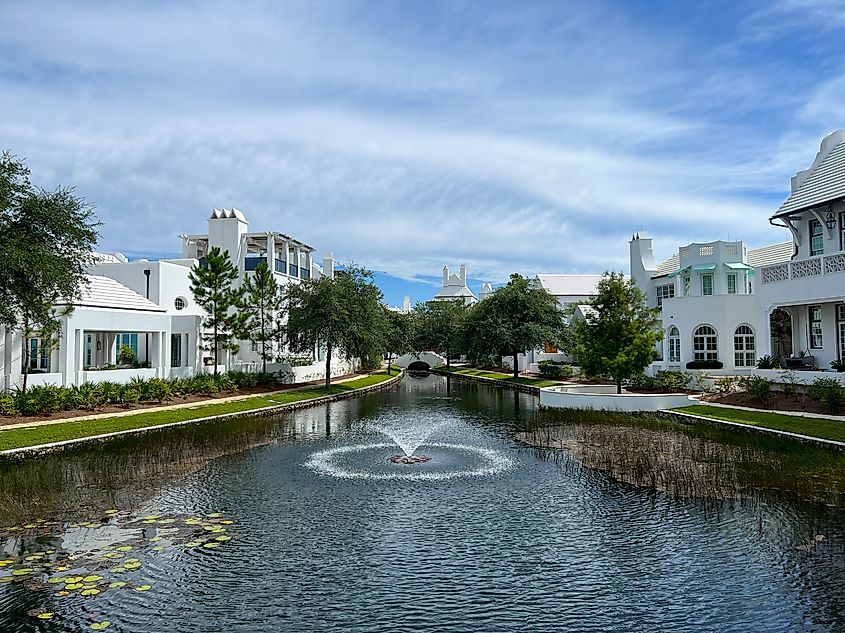 Alys Beach, just east of Seaside, is a walk into paradise in Mediterranean style along the Gulf of Mexico, blending breathtaking landscapes, elegant architecture, and a striking urban community. This community welcomes you with palm-lined streets, Caribbean-style architecture, calming courtyards and green outdoor spaces. Check out the Timpoochee Trail, where you can take a stroll, hike or bike and absorb the beauty of the natural preserve. Go picnicking with friends and family at Alys Beach Central Park and enjoy the greenery and outdoor activities, or visit the Caliza pool to watch the sunset and swim in the refreshing water. 
Navarre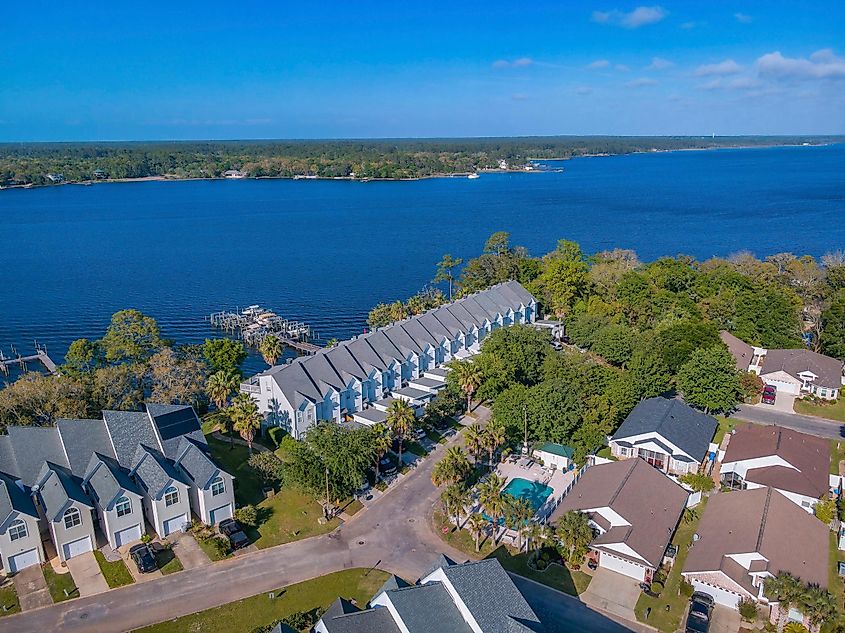 Navarre is a gorgeous coastal beach town in Santa Rosa County, Northwest Florida Panhandle, with a host of features allowing visitors an array of fun experiences from fishing to shopping souvenirs at circunscrito stores. With 12 miles of white sandy pristine shoreline, Navarre offers a scenic waterfront view, picnics, or cruising through the calm waters. You may also take out your fishing nets with the Navarre Beach Fishing Pier, which is over 1,500 feet long; it also has towers overlooking the Gulf of Mexico at around 30 feet with an incredible view of the waters reflecting the blue skies. Embark on a nature-seeking journey to the Blackwater River forest. When you are done traversing the beautiful natural preserves, take the short drive over to the Island to check out the Sailor's Grill at Juana's Pagodas or the Beach House Bar & Grill and have a hearty meal. 
Fort Walton Beach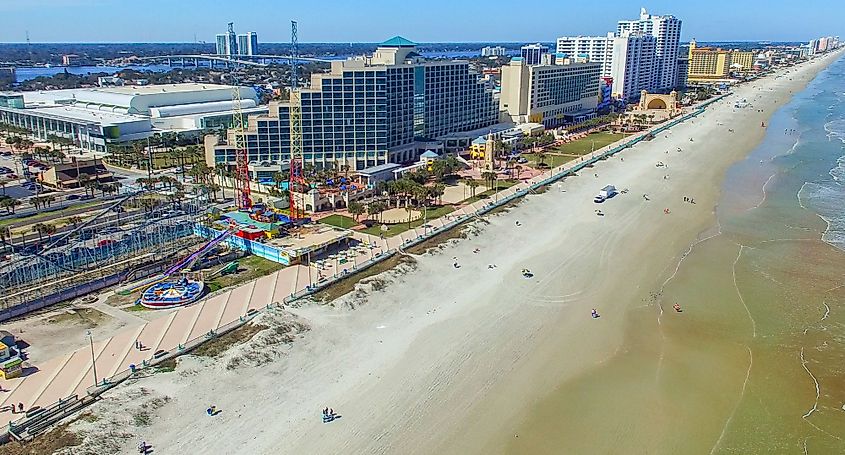 A perfect pick for adventure and vacationing, Fort Walton Beach lies between Pensacola and Panama City, offering visitors emerald waters and white beaches. The beach's tranquil waters and ivory shore make it perfect for relaxation and swimming; you can also engage in watersports like boating and kayaking and discover mermaiding on Okaloosa Island or walking the Boardwalk into the Gulf of Mexico to enjoy the breezy waters. Pay a visit to the Gulfarium Marine Adventure aquarium and check out various species of fish and fish with Blue Water Escape Fishing and Diving Charters. Learning about deep sea fish like cobia, grouper, and sharks is one of the highlights of this place. Take your family to Wild Willy's Adventure Zone to experience entertainment with a 4D movie theater and an excellent arcade.
Panama City Beach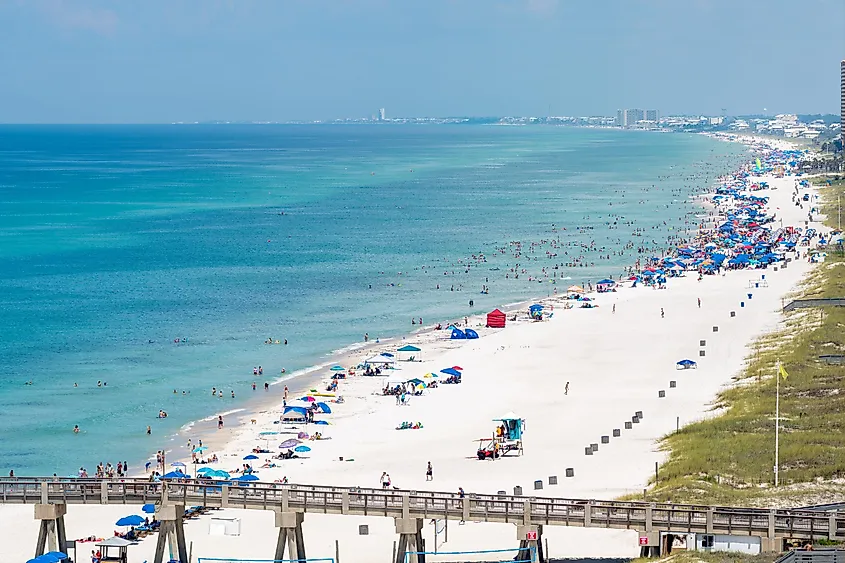 With 27 miles of white sand beaches, Panama City Beach is one of Florida's finest along the emerald Gulf of Mexico, housing various state parks like nearby Camp Helen State Park and waterfront dining. Have a wonderful time cooling off with friends at the shore of Panama City Beach, or hop on a ride to Shell Island to see dolphins, sunbathe, or ride in the waves. Dine with the city's beachfront restaurants, like casual dining at Harpoon Harry's or authentic cuisine at Capt. Anderson's restaurant. End your day with an adventurous journey to amusement and theme parks like Swampy Jack's Wong Adventure or a discovery walk through ZooWorld Zoological Conservatory.
Grayton Beach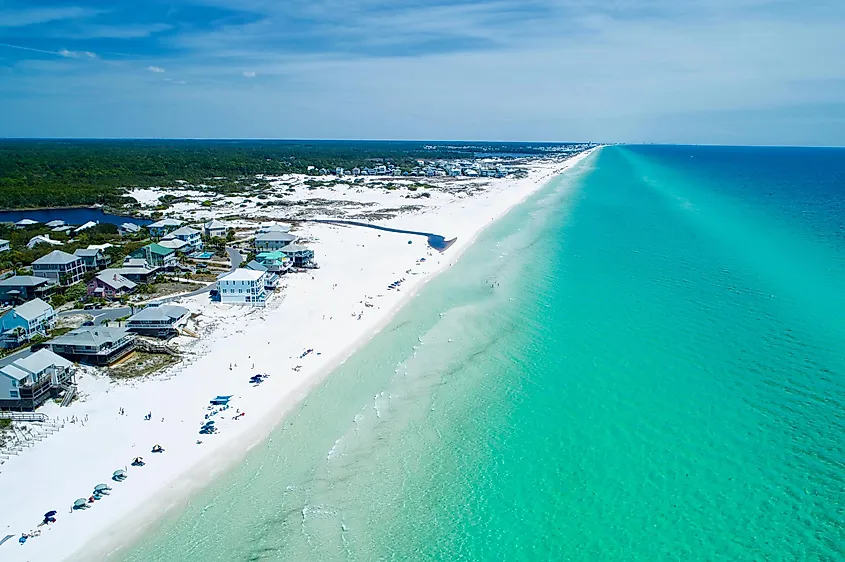 Nestled between Destin and Panama City, Grayton is a small, funky coastal community in the Florida Panhandle with a relaxed view and fresh salt air. The beach is located in Grayton Beach State Park and leads right into the Gulf of Mexico. You can relax watching the beach, delve into the waters, ride on boats, and go fishing with the Dead Fish charters. Take a trip to this town's bustling street of art galleries like the Clint Eagar Design or the Zoo Gallery, and have a fulfilling breakfast at Crackings or Black Bear Bread Company and tasty eats at Chiringo and the Grayton Seafood Company.
Miramar Beach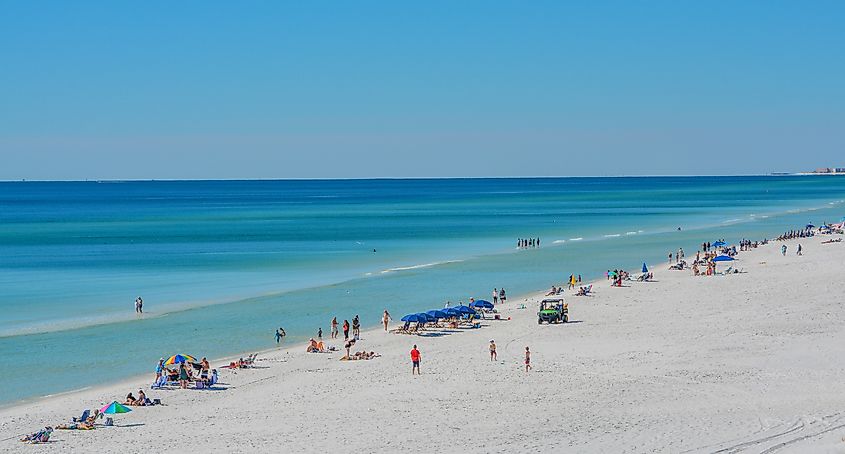 A trip to Miramar Beach is a fun-filled journey through the clear waters reflecting the radiant sun. If you want to have fun, you should rent a jet-skip, kayak, or parasail ride on the beach's turquoise waters and spend your day basking in the fantastic aura of beach life. When you're done, turn to the town's shops for retail therapy shopping brand designers at Silver Sands Premium Outlets with various stores like American Eagle Outfitters, Carter's, and Michael Kors Outlet. Visit the New Vision Theatres Boulevard at Grand Boulevard for a cinematic evening with food and drinks to pair. Keep your energy biking along the 3-mile scenic Highway 98 trail or a game of tennis with the Hidden Dunes Beach & Tennis Resort.
Rosemary Beach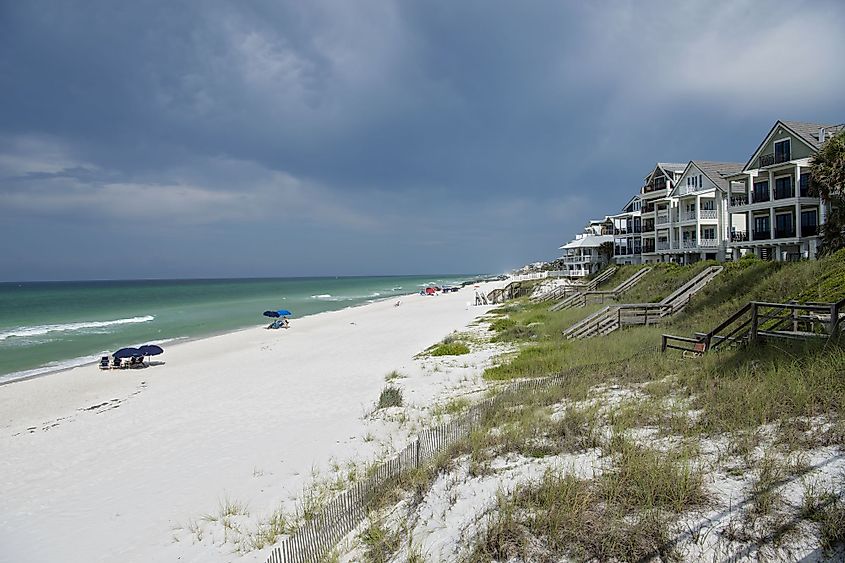 Rosemary Beach is a small community located in Walton County, west of Panama City Beach. The beautiful city has scenic architectural views and pools like the Coquina, Barbados, and Sky Pool. Start your day inhaling the fresh air from Rosemary Beach Inn overlooking the Gulf of Mexico, and walk through the interconnecting paths of Rosemary Beach neighborhoods. There are also various greenery and parks for leisure walks, picnics, and games, including East Long Green Park, St Augustine Park, and the Rosemary Beach Butterfly Park. Get your money's worth dining with high-class restaurants like the Pescado rooftop bar and seafood grill, Restaurant Paradis, or Edward's.
These Emerald Coast Towns, be it Miramar Beach or  Fort Walton Beach, showcase nature at its finest, including turquoise-emerald waters, fantastic greenery and landscape, vibrant streets, and a fun-packed trip discovering nature and wildlife. While these towns' aesthetic is to die for, they offer more than that. They take you through experiences and culture, from the fantastic fishing experience at one of the world's luckiest fish village, Destin, to the welcoming hands of Rosemary Beach.
The stunning view at the waterfronts, nightlife, and events at Navarre and art galleries at Seaside have visitors trooping in and out regularly around the calendar. So, start planning your weekend getaway and pack all the energy you'll need to surf, swim through the Gulf of Mexico, go on boat rides, and discover various species of fish in natural preserves and aquariums at Fort Walton Beach. There are also delectable seafood cuisines to try at Destin's seafood restaurants. Not convinced yet? Let the waves do the talking, so pack your bags and explore.